William Lamartine Thompson used his considerable talents to write several popular hymns throughout his life, but his story has a surprising entrepreneurial bent.
Thompson first had the idea to sell his songs to other publishers but was only offered $25 for four songs. He knew they were worth more and that he could continue to produce more. So instead of selling, he opened his own music company, producing music and selling instruments and sheet music in East Liverpool, Ohio. It later grew to become one of the most successful music companies at the time in the U.S. His company inspired hundreds of musicians. Today his hymns and music are still popular and in use. Many have even been used in television and film programs.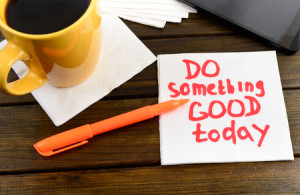 One of Thompson's most popular hymns "Have I Done Any Good?" has a rousing chorus which goes: "Wake up, and do something more than dream of your mansions above. Doing good is a pleasure, a joy beyond measure, a blessing of duty and love." His words are a reminder that helping others by doing good brings joy. Thompson said of how he received inspiration for his songs: "No matter where I am, at home or hotel, at store or travelling, if an idea or theme comes to me that I deem worthy of a song, I jot it down in verse. In this way I never lose it."
Thompson's life is a testament to the spirit of entrepreneurship. He always knew what his product was worth. He built his own success instead of depending on others to do it for him, and he was always looking for inspiration.
And we can be inspired by his success and by his message. We can all look to do something good today!